"It's the most wonderful time of the year!" …….. or so the song says!
We realise that this is not necessarily the case for everyone so we have put together some of our own personal ideas of how to get through Christmas & New Year – some of them practical and some of them a bit more fun.
This blog will give you some of our top tips for surviving the Festive period including a link to keeping your home warm, and your energy costs low.
We are all different
No two people are the same so what works for one person, won't necessarily work for someone else and what one person finds enjoyable might be the next persons worst nightmare. We have taken a selection of ideas from the people in our office of the best advice they can offer to 'Survive Christmas' – hopefully you find something that you can relate to.
#1 Kara says
"Eat & drink what you like without guilt" – there is plenty of time to make up for the excesses in January! There is always so much delicious food on offer at this time of year and it is so difficult to resist. A little bit of everything in moderation will do you no harm. If you can't help but feel guilty, follow Gillian's tip below.
#2 Gillian suggests
"Get some exercise" – now this does NOT have to be a full on gym session every day! Maybe wrap up warm and get outdoors for a gentle stroll with a friend or take the dog for a walk. The fresh air always helps lift a mood. If you can't get out, turn the music up high and have a little dance! It all counts 😊
#3 Lisa recommends
"Watch a feel good film" –  there are always loads of Christmas movies on!
Some of our favourites are
The Grinch
It's a Wonderful Life
Die Hard (?!)
Mamma Mia
The Greatest Showman
Home Alone
Love Actually
Snuggle up with a cosy blanket and a box of chocolates & enjoy!
#4 Tracey's thoughts
" Get away from it all" – whether it's actually going away for the Christmas/New Year period or planning a break for 2022, there is no doubt that a holiday or break away can give you something to look forward to. We may not all be comfortable with international travel as yet but there are lots of lovely places to go on a 'staycation' too.
#4 Rosie's tip
" Don't stress over the small stuff" – at the end of the day, does it really matter if you burn the sprouts?! There is always plenty to eat anyway. If you have forgotten to move 'the EIf' before the little ones get up – tell them that Daddy/the dog was awake through the night so poor Elfie couldn't move as they can only move when everyone is sleeping! If you forget to send a card/gift to someone – send them a message or email a voucher instead – there are plenty of vouchers available online right up to the last minute – or forget the card/gift and arrange a get together in the New Year. Your presence is more important than your presents!
#5 Ryan's advice
"Don't forget to smile & have a laugh!" – Do something that makes you happy! This can be anything at all that you enjoy. Whether that be getting together with family/friends or spending time doing a hobby. Or even something as simple as having a nice coffee or listening to music with a glass of whiskey. It could be volunteering or doing something nice for someone else. Only you know what makes you happy! 😊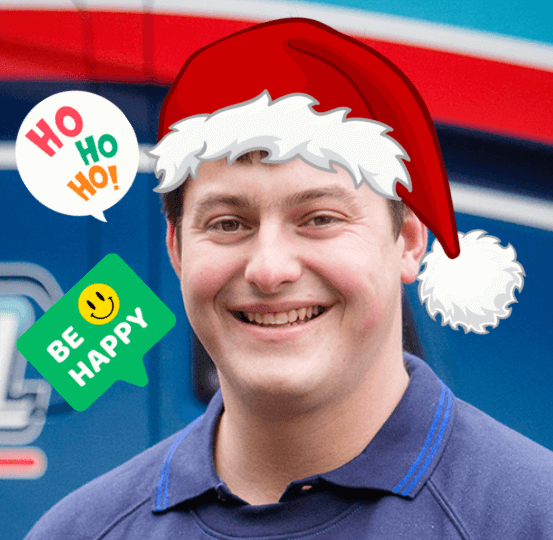 #6 Kevin says
"Don't overspend if you can't afford it" – It is so difficult to not get caught up in the whole 'commercial' Christmas – all the TV adverts & programmes showing the perfect family with the perfect dinner and the perfectly wrapped presents – but that all costs money and a lot of money at that! And let's also not forget that not one of us is 'perfect' and what is portrayed on TV/social media is not always reality. Your family & friends won't care about expensive gifts or fancy dinners. Just enjoy a couple of days off spending time together.
Of course, not all families enjoy spending time together and sometimes this time of year can highlight existing tensions & strained relationships. Think about what would make it easier for you and try to make a plan in advance. Maybe you could limit the time spent in certain situations or ask another family member or friend to mediate beforehand to prevent any unwelcome confrontations.
Help is at hand
If you are struggling financially to keep your home heated & warm, please do not hesitate to get in touch with our team, and we will do our best to help make sure you don't go cold this Winter.
Our blog on Winter Heating Tips & How to Save Money on Energy Costs can also provide some practical solutions that may help.
Financial Help
For more general financial advice and for immediate help, contact Citizens Advice
Remembering absent friends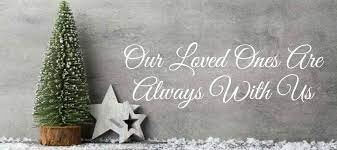 It can be particularly hard to get through the festivities when you are missing a loved one. Celebrate their memory by doing something they enjoyed doing – maybe have dinner at their favourite restaurant and raise a toast ? You could also hang a bauble on the tree especially for them or have a vase of their favourite flowers sitting by the dinner table.
Don't be scared to ask for help
If the going really gets tough, for whatever reason, please speak out! Don't suffer in silence. You are not alone. There are numerous people & organisations out there who want to help.