We've put together a quickfire of some of the most commonly asked questions & answers! More in depth answers to some of these questions can be found by visiting the blog page on our website.
What is the smallest amount of oil I can order?
Our minimum oil delivery is 500 litres. Most domestic tanks are between 1000 litre & 1500 litre capacity.
Is it cheaper to order a larger quantity?
Yes. The pence per litre (unit price) will be cheaper the more you order.
Will you top-up my tank if I order online?
Sorry, we can only accept orders online for specific quantities. If you need the tank topped up, please call our office on 01356 648 648 – we can process your order for the maximum amount you think your tank will hold and your card payment will be pre-authorised to this affect. The card payment will not be fully processed until the delivery is made so you will only pay for the exact amount of litres delivered.
If I cannot take the amount of oil that I ordered, will I be refunded?
If payment is taken at the time of order then your credit/debit card will only be processed for the exact amount to pay for the exact amount of litres delivered. If your payment was made via bank transfer or other payment method before delivery has been made, we can arrange for any monies owed to be refunded.
Do you charge credit card fees?
No. We do not charge fees for paying by credit or debit card.
Do I need to be home when you make my delivery?
No – as long as there is unrestricted access to your tank you do not need to be present.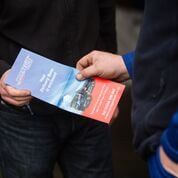 How do I know how much fuel has been delivered into my tank?
Our driver will leave a delivery ticket which shows the metered amount into your tank.
How do I pay for my delivery?
By credit/debit card or Monthly Payment Plan – more info …
What is the VAT charged on Domestic Heating Oil?
The VAT rate is 5% for all domestic heating oil customers.

Can I pay for my fuel in monthly instalments?
Yes, please get in touch to discuss your yearly usage & agree a monthly payment amount
Can I have my tank topped-up automatically?
Yes, we have a Remote Monitoring System. For more details, click here.
Once I have placed my order, can I change or cancel it?
Yes, of course! Please call the office on 01356 648648
Do you only supply home heating oil?
No, we also supply Gas Oil and Derv for agricultural & commercial customers
I have run out of fuel, how soon can I get a delivery?
We aim for a 1-2 day delivery as standard. However, if you have completely run dry of oil, please alert us at the time of ordering and we will do our utmost to get a delivery to you SAME DAY if we possibly can! You can also place an order online before 3pm for GUARANTEED NEXT DAY delivery.
I am not in any rush, are there any savings to be made?
Yes, we have several options on our online ordering for Next Day, 3 Day & 7 Day. If you are not in any hurry, you can opt for the 7 day delivery window which will allow us to gather and deliver several orders in your area which will reduce our delivery costs and therefore allow us to reduce the price per litre that you pay.
Why should I call you when I have checked for the cheapest price on a comparison website ?
The domestic heating oil market can be complex and many people find it difficult to know where to start when looking for the best deal. A quick internet search will take you to a number of 'comparison' websites which promise you the lowest price on your heating oil. In reality, not all fuel suppliers quotes will be included in these comparisons and you may find that the price is quite often as cheap, if not cheaper, if you call your local supplier direct. Our blog goes into much more detail on why it may be better value for money to #buylocal

Do you service oil boilers and cookers?
Unfortunately we do not have our own service engineers at the moment
Do you supply and fit plastic oil tanks?
We supply a full range of Kingspan Titan Tanks which we can place in situ to be fitted by an OFTEC registered plumber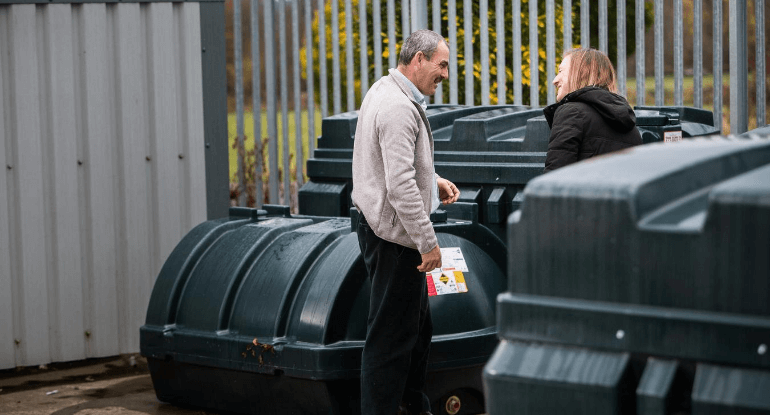 Do you have small vehicles for difficult access?
Yes. We have smaller vehicles for delivering home heating oil with tight or difficult access. Please call to discuss on 01356 648 648.
What are your office hours?
The office is open from 8.00am to 5.30pm Monday to Friday and Saturday morning 8.00am to 12 noon. However, the telephone is transferred to an Out of Hours Service and answered until 8pm weekdays and from 12 – 5pm Saturdays & 10am – 4pm Sundays. There is only one telephone line during OOH so please do keep trying if your call is unsuccessful first time, or you can of course leave a message. Alternatively, you can place an order online here or send an email
Do you accept cheques?
We do still accept cheques in certain circumstances although this is not our preferred payment method.
Is home heating oil cheaper in the summer?
Not necessarily as the price is governed by crude oil prices which can vary depending on various worldwide factors. If crude oil prices are higher in the summer then home heating oil prices will also be higher. However, as you would expect, demand in winter can also impact on the price
Related content : When is the best time to buy heating oil (blog)?


How often do oil prices change?
Oil prices are changing all the time (whilst the oil markets are trading). We change our prices as necessary to take account of the market changes.

I have a grievance, how do I complain?
In the very unlikely event that there is something you are unhappy with please call or email Rosie Carnegie on 01356 648648 / rosie@carnegiefuels.co.uk in the first instance. Our reputation is very important to us, and whilst, unfortunately, sometimes mistakes do happen, we will always do our best to put it right 😊
If you are in need of any advice then please do not hesitate to get in touch with our team who will be happy to help you.